MATERIALS:
• 100% Cotton yarn (combed, gassed, mercerised) 50 g / 125 m 
• 2.5 mm crochet hook
• Tapestry needle and scissors
• Fiberfill / toy stuffing
• Stitch marker or a strand of thinner yarn 
 ABBREVATIONS:
ch = chain
sl st = slip stitch
sc = single crochet
inc = single crochet increase 
dec = single crochet decrease
[…] = number of stitches you should have at the end of the round/Rnd
(…) x… = repeat whatever is between the brackets the number of stated
PATTERN INSTRUCTIONS: This pattern is written using American terminology (US-TERM) and is worked in continuous rounds unless otherwise stated. 
NOTE: I recommend, when you decrease (dec) in this pattern, always use the invisible decrease.(You only crochet into the front loop) 
 SKILL LEVEL: Easy / Beginner
 FINISHED SIZE: approx. 4.5 cm 
CHOCOLATE COVERED STRAWBERRY
With dark brown or beige yarn
Rnd 1: 6 sc in magic ring [6]
Rnd 2: (sc, inc) x 3 [9]
Rnd 3: (2 sc, inc) x 3 [12)
Rnd 4: (3 sc, inc) x 3 [15]
Rnd 5: (4 sc, inc) x 3 [18]
Rnd 6: (8 sc, inc) x 2 [20]
Rnds 7 – 8 (2 rows): sc around [20]
Change color to red yarn
Rnds 9 – 10 (2 rows): sc around [20]
Rnd 11: (2 sc, dec) x 5 [15]
Stuff with fiberfill.
Rnd 12: (3 sc, dec) x 3 [12]
Rnd 13: 6 dec [6]
Stuff with fiberfill.
Fasten off, leaving a long tail for sewing. 
Using your yarn needle, weave the yarn tail through the front loop of each remaining stitch and pull it tight to close.  
SEPALS
With green yarn
Rnd 1: 6 sc in magic ring [6] join with sl st
Rnd 2: ch 4, 3 sc, sl st next st
Rnds 3 – 7 (5 rows): repeat Rnd 2
Fasten off, leaving a long tail for sewing.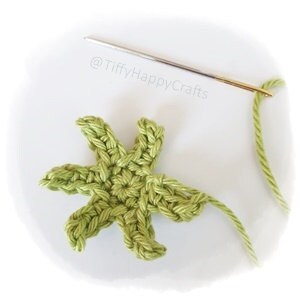 FINISHING:
1. Sew the sepals to the strawberry, so the base of the stem sits over the magic ring at to top of the strawberry.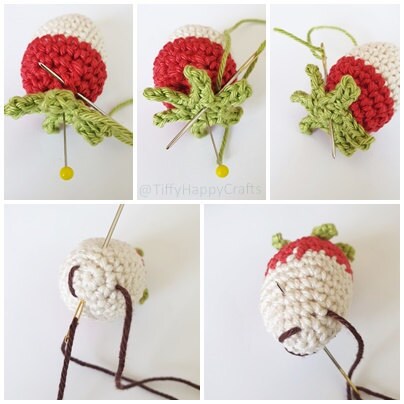 🧁 🍓You can find the Strawberry Cupcake CROCHET PATTERN PDF in my Etsy-shop! 🛒
LINK>> https://www.etsy.com/de/listing/1228315432/strawberry-cupcake-crochet-pattern-pdf
HAPPY CROCHETING!😁💖
It would be great to see your gorgeous work, so please share a photo with me Instagram by hashtag #TiffyHappyCrafts and tag me @TiffyHappyCrafts 
Let me know if you have any questions or other comments in the space below. 
****************************************************************************************
This pattern is an original pattern by TiffyHappyCrafts. Please do not claim this pattern as your own. If you wish to share this pattern please feel free to link to this pattern, but please do not reprint it on your website.
You are welcome to sell your finished product with your photo. I will be really glad if you would credit me as the original designer, @TiffyHappyCrafts. 🙏
**************************************************************************************